---
Next Bob's 9 ball Tournament: Sat, October 21st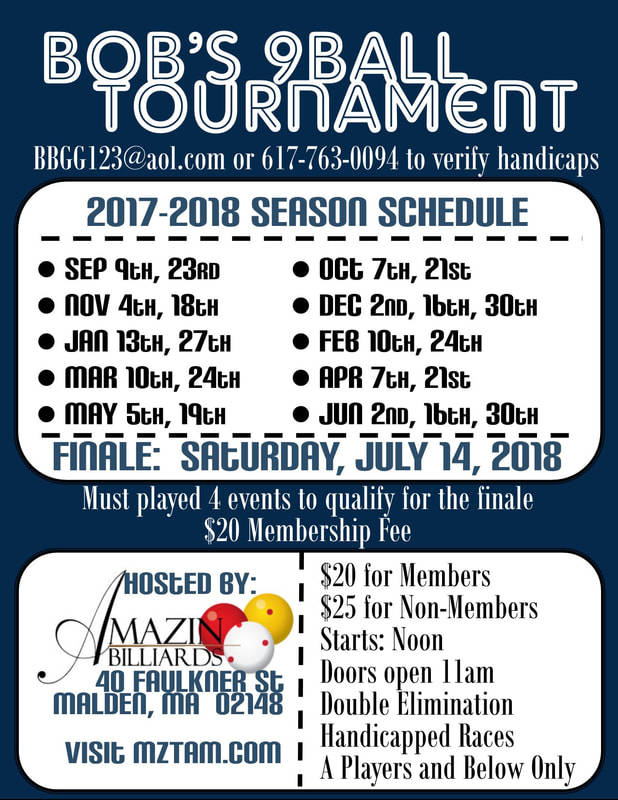 *Attn:
Any females that qualifies for Bobs finale, Tam will donate $100 and Mazin will add $25 GC to Amazin Billiards to the Top Lady placing on finale day. Ladies, we support you. Please come out and play!
Special Event: Nov 11-12 BCA 8ball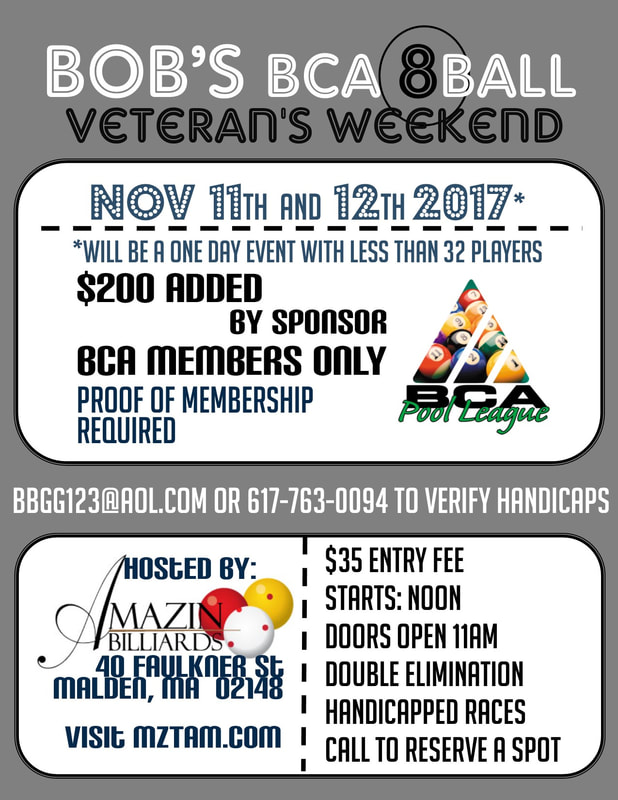 Attention ALL active BCA members, Bob is running an 8ball $200 added tournament Veteran's Day weekend! Please reach out to Bob to verify eligibility and handicaps. Help share! The better the turnout for these individually sponsor events, the more Bob will do. Thank you BCA for the money added!
---
10.21.17

TBA

10.7.17

1st Nihril Knatwani
2nd Bob Wheeler
3rd Wayne Tyler
4th Eric Lim


9.23.17


1st. Jiten Patel
2nd Paul Dozier
3rd. Sal Picone
4th Bill Galagher


9.9.17

1st Wayne Tyler
2nd Paul Dozier
3rd Paul Luciano
4th David Lamey
---
| | |
| --- | --- |
| 7.16.17-9ball $500 added | 7.8.17 - Season Finale |
1st Greg Nice
2nd Mike Minichello
3rd John Bagnera
4th.Eric Lim
5th Bob Ferrara
6th John Beaver

1st Chin Phan
2nd Bill Gallagher
3rd Roarke Dickson
4th Dave Shea
5th Paul Luciano
6th Ed DeKerzarian
7th RobCarbone
8th Catherine Ong

---
6.10.17


1st Eric Lim
2nd Paul Luciano
3rd Dan Simoneau
4th Jiten Patel


5.27.17


1st Ed Dekarzarian
2nd Wayne Tyler
3rd Sal Picone
4th Quoc Dinh


5.13.17

1st Jeremy Phillips
2nd Mike Leaver
3rd Ed Powers
4th Paul Luciano


4.29.17

1st Sal Picone
2nd Richard Howard
3rd Roarke Dickson
4th Ed Derkazarian

---
4.15.17


1st Arthur LeBrasseur
2nd Sal Picone
3rd Paul Dozier
4th Chinh Phan
5th Paul Cresitelli
6th Catherine Ong


4.1.17


1st Doug Canizalez
2nd Mike Mikaelyan
3rd Chin Phan
4th Wayne Tyler


3.18.17

1st Eric Lim
2nd Rob Carbone
3rd Paul Dozier
4th Arthur Lebrasuer
5th Eric Hunter
6th ED Dekarzarian


3.4.17


1st Dev
2nd Steven Black
3rd Wayne Tyler
4th Jim McCoy
---
2.18.17


1st Sweet Money
2nd Dave Canizalez
3rd Mike Leaver
4th Ed Derkarzarian

2.4.17


1st Marco Pirrotta
2nd Arthur LeBrasseur
3rd Paul Luciano
4th Paul Dozier
5th Eric Lim
6th Matt Eline


1.21.17


1st Dave Shea
2nd Sal Picone
3rd Wayne Tyler
4th Dave Lemay


1.7.17


1st. Eric Lim
2nd Seamus Sweeney
3rd Steven Black
4th Wayne Tyler

---
12.17.16


1st Paul Lucianno
2nd Alan McGuane
3rd Brian Gonsalves
4th Doug Canizalez


12.3.16


1st David Lemay
2nd Tam Trinh
3rd Paul Linteris
4th Joe Kaulenas


11.19.16


1st Catherine Ong
2nd David Lemay
3rd Sal Picone
4th Bill Gallagher


11.5.16


1st Rich Minichello Sr.
2nd Joe Kaulenas
3rd Quoc Dinh
4th Paul Luciano

---
| | |
| --- | --- |
| 3.26.17-9ball 7/7 Race | 11.13.16-8ball Partners |
---
10.22.16


1st Sal Picone
2nd Jiten Patel
3rd Dave Shea
4th Virat Agrawal


10.8.16


1st Joe Kaulenas
2nd Paul Linteris
3rd Steven Black
4th Ben Savoie


9.24.16

1st Paul Luciano
2nd Jiten Patel
3rd Sal Picone
4th Ed Dekarzarian


9.10.16

1st Joe Kaulenas
2nd Paul Luciano
3rd Quoc Dinh
4th Dave Shea

---
7.9.16 Finale


1st Chao Zhang
2nd Dan Simoneau
3rd Sal Picone
4th Joe Kaulenas
5th Dave Shea
6th Bob Wheeler


6.18.16

1st Asher Lee
2nd Suad Kantarevic
3rd Jodie Thompson


6.4.16

1st Paul Dozier
2nd Joe Kaulenas
3rd Chao

---
5.21.16


1st Sal Picone
2nd Asher Lee
3rd Dave Lemay
4th Dan Matis


5.7.16


1st Chao
2nd David Lamay
3rd Paul Linteris
4th Joe Kaulenas

4.16.16


1st Nice
2nd Paul Dozier
3rd Ed Dekarzarian
4th Paul Luciano

---
---
2.20.16

1st Bill Motherway
2nd Michael Lydon
3rd Ed "The Eagle" Powers
4th Bill Gallagher


2.6.16

1st Chao Zhang
2nd Ed "The Eagle" Powers
3rd Wayne Tyler
4th Jodie Thompson


1.23.16

1st Arthur LeBrasseur
2nd MzTam

---
---
---